Dóttir (Berlin) X TEST KITCHEN
Dóttir (Berlin) X TEST KITCHEN
Date : July 28th, 29th, 30th & 31st
Time: 7:00pm & 8:15pm Seating
Price: $1,280 (with drink pairings)
Location: 158A Connaught Road West, Shop 3, Sai Ying Pun
Once ticket is purchased, we'll email you your confirmation.
One of Europe's most exciting and critically-acclaimed restaurants, Berlin's Dóttir is set to visit Hong Kong in a four night pop-up with Test Kitchen from July 28 – 31.
Dóttir started out life less than eighteen months ago as a pop-up, today the restaurant continues to feed the diners of Berlin's Mitte district, to rave reviews: Bloomberg called Dóttir "One of Berlin's best new restaurants", while the city's Time Out awarded it the rare accolade of five out of five stars.
'Dóttir' is Icelandic for 'daughter', named after the young Danish-born, Icelandic-raised chef head chef Victoria Eliasdóttir. She was trained in Iceland, before four months as a stagière with Alice Waters at the legendary Chez Panisse in Berkeley.
Dóttir's cuisine is light and clean, simply-presented but precisely-composed, allowing impeccable ingredients to shine through true attention to detail and the thinking that, sometimes, less can be more.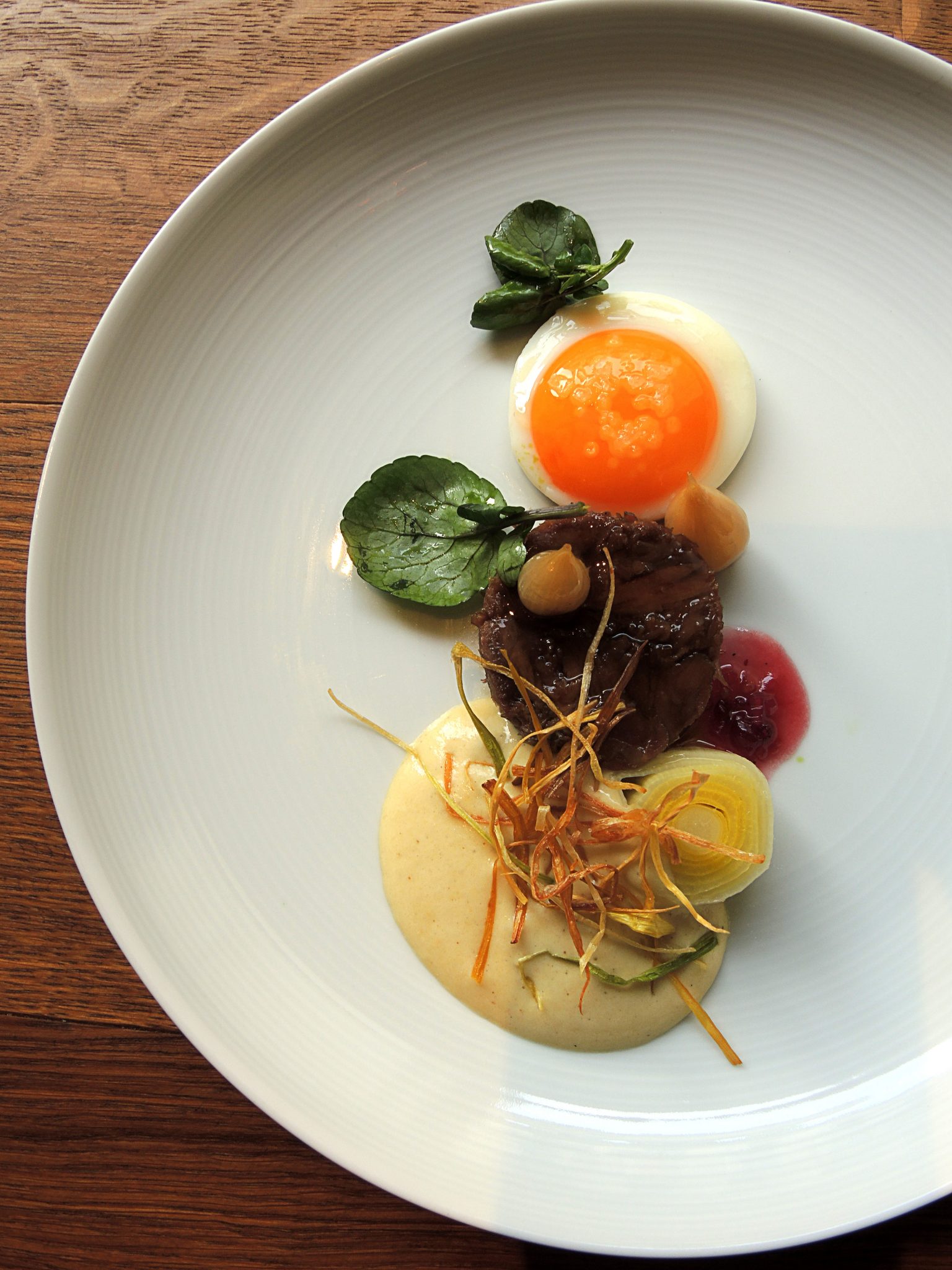 "Our cooking represents the kind of food we grew up with. We all come from different places, Victoria from Iceland, Filip from Denmark, Julia from Germany and Andrea from Italy."
Being the daughter of a chef who worked for years on fishing boats, it's no surprise that fish features prominently in the menu for the Hong Kong pop-up with Test Kitchen. Eliasdóttir works side-by-side with Danish Sous Chef Filip Søndergaard, Andrea Iannicella, and Julia Heifer; each of the four play an important role that together shapes and brings Dóttir where they are today.
The seven-course menu for Hong Kong diners features elegant dishes, always sublimely-flavoured. The prototype menu includes fish slow-cooked before being served with smoked buttermilk, a chive vinaigrette, pea pureé and fish skin. One of Dóttir's signature dishes also features in the form of carrots cooked for hours, under a seaweed vinaigrette with brown butter and reduced carrot juice, adding a new kaleidoscope of flavors to it and redefining the perception of a carrot.
It's not just about the sea as the land provides a breathtaking confit chicken thigh cooked in duck fat with tarragon oil and leaves, pickled cherries, crispy chicken skin and celeriac purée.
The dinner crescendos with a stunning dessert comprising a white chocolate mousse, cassis granita, fresh blueberries in thyme syrup alongside a baked white chocolate and salted almond crumble.
*Please let us know if you have any dietary restrictions, the team will do our best to work around the dishes for you.
TEST KITCHEN's journey with Dóttir (Berlin)
The breathtaking menu reflects the skills and experience of the entire Dóttir team:
Born in Sønderborg in southern Denmark, Filip Soendergaard moved to Greenland as a child where he lived for three years and fell in love with seafood and the vibrant traditional food culture. When his mother would kick him out of of the kitchen for seasoning her food in his way, he realized he wanted to cook. After culinary school in Copenhagen he did an apprenticeship in Norway and then moved to London where he met (former Test Kitchen guest chef) Carlos in the kitchen of Roussillon. He them worked under head chef Michael Hoepfel at a restaurant in Berlin called Pauly Saal, prior to joining Dóttir.
Andrea Iannicella was born and raised in northern Italy and there's no doubt that passion for cooking runs in his blood – he is often found deep in thought, researching "second generation" cooking methods. After immersing himself in French restaurants and culture in Marseille, he moved to Australia to expand his culinary horizons still further. After 4 years as sous chef at one of Melbourne's most renowned restaurants Morris Jones, Andrea returned home. He brings a great drive to Dóttir and is fully committed to the team, while his energy for expanding his mind as a cook is contagious in the best way possible.
From an early age Julia Heifer was involved in the kitchen, growing up with parents who were very aware of the power of good quality ingredients. In 2015 she quit her job as a fashion stylist and started to cook for small groups and private catering. Her passion for food finally became more than a hobby.  When she met Victoria they clicked from the very beginning. Since 2016 Julia has been an important part of the Dóttir team adding her eye of perfection and rational thinking to the team.
Dóttir's residency represents the latest culinary coup by Test Kitchen's founder Vincent Mui, as he enables hugely-talented chefs from around the world the chance to show off their considerable skills for Hong Kong diners.
Critics have said "Eliasdóttir's menu shimmers with Icelandically-inspired clean flavours that infuse the freshest produce with wholesome, organic character. You can sense her devotion to food in whatever she prepares."
Join us from July 28-31, we can't wait to have you!